Head Wraps and Turbans worn to conceal hair loss are very different from those you wear when you have hair. When you lose your hair, Head Wraps and Turbans are an essential piece of clothing instead of an optional accessory.    There is a process to styling the best head wear for your face shape, just the same as finding a pair of flattering jeans for your body shape, or a hairstyle to accent your best features  - you can personalize the style of your Head Wraps and Turbans.    
Special Features of Headwear for Hair Loss   
Comfortable enough to wear all day 
Sized for a head without hair 
Total coverage of the hair line 
Compatible with your current wardrobe style
Oval Face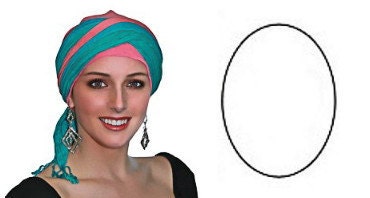 An oval shaped face is about 1-1/2 times longer than it is wide and is the most balanced face shape. You will be able to wear most styles easily.    Also, cloches (beanies), closely wrapped Head Wraps and Turban sets that sit close to your head are a good choice for you.               
Round Face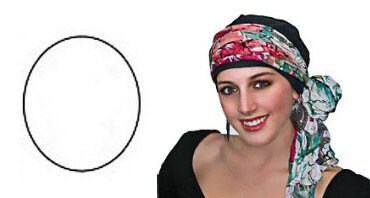 If the length and width of your face are fairly equal, you have a round face and will want to embellish the flat outline of the basic turban or head wrap.    Add height by layering with a twisted band or scarf. You can further soften lines with a bow, half bow or silk flower on one side just above your ear.   The Turban Sets give you several of these styling options.  If you have your own scarves, the chemo hats (Beanies) are handy for a base that will cover your head, so you can easily style a scarf around them.         
Square Face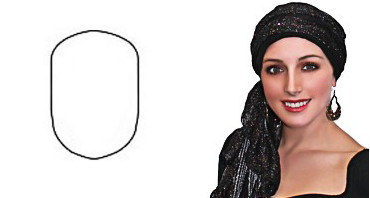 A square face is about the same width across the forehead and the jaw line. Add height by twisting a scarf as described above.    To soften your jawline, tie the scarf just behind your ear, with full ends flowing in front of your collarbone. Or tie a large bow above or behind your ear.                 
Heart Shaped Face        

A heart-shaped face is widest across the forehead and/or cheekbones, with a small, narrow jawline or chin.    The edge of the wrap can be a little lower on your forehead, with the knot behind your ear and the tie ends hanging long in front or back.  For you, scarf ends that are square or rounded will look better than pointed ones, which can exaggerate a pronounced chin.    A full bow towards the top of your head will accentuate your eyes.   
For all Face Shapes   To best disguise hair loss, bring the edges of the headpiece around your natural hair line to cover the tops of your ears, and play with twisting, wrapping and tying the end in knots, bows or half bows (only one loop).   Have fun experimenting with tying the knot on one side and then the other, with tail ends hanging down or tucked into the band of the scarf.    Spread the fabric of the bow for maximum fullness, and position it in different areas around your head.   For more styling ideas, be sure to check out our Tutorial pages for 2 Piece Turban Sets and 1 Piece Turban Head Wraps.